Sunflowers symbolize happiness, loyalty, and growth 🌻, the perfect gift for the sunshine of your life!
This necklace uses Nano-micro engraving technology to engrave "I love you" in 100 different languages on the love stone to express your love for her.
You can freely customize anything you like, including people, pets, scenery, and so on. Personalize the moment you love most on a projection necklace! Engraved love never fades, and treasured memory will always be with you.
We tailor a photo projection necklace for you to cherish or share your good times. It is also an ideal birthday/anniversary/Valentine's Day/Christmas memorial gift for your girlfriend, boyfriend, wife, husband, mom, dad, or friend.
How To View Projected Pictures
Look inside directly or use some tools. For example, the protruding side of the stone is pointed at the camera lens, then the images will be displayed on the phone screen. Another method is to point the light at the stone flat backside and project it elsewhere, then you can see what the image is.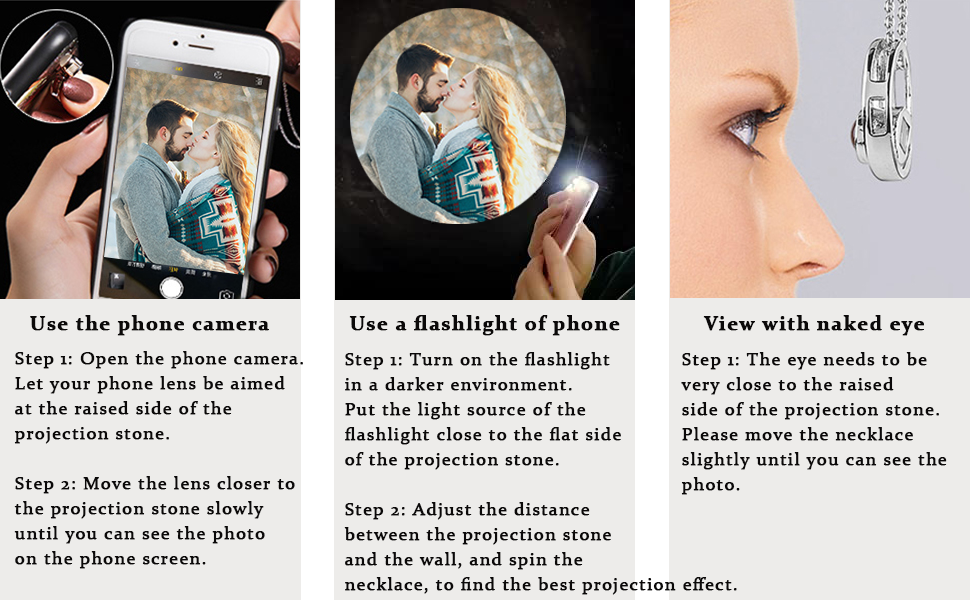 Package includes:
Necklace
Delicate jewelry box
Gift bag
Maintenance instruction
Sliver polishing cloth
Personalized Photo Projection Necklace"The Memory of Love" necklace puts your pictures in Nanotechnology LOVE STONE, illuminating the pendant with light, mapping out Photo of sterling silver necklace, give surprise to who you love. And upload your Favourite Pattern & Photos to Customize.How To View Projected Pictures Look inside directly or use some tools. For example, the protruding side of the stone is pointed at the camera lens, then the images will be displayed on the phone screen. Another method is to point the light at the stone flat backside and project it elsewhere, then you can see what the image is.Package includes:NecklaceDelicate jewelry boxGift bagMaintenance instructionSliver polishing cloth
925 Sterling Silver Photo Projection Necklace with I Love You Necklace 100 Languages